New WEISSER machine concept LMD BD 450: Laser build-up welding for non-abrasive surfaces on brake discs
The upcoming Euro 7 standard will once again present the transport sector with changes. Previous Euro standards focused mainly on regulating CO2 emissions. Now the focus is on reducing particulate matter pollution. A large proportion of the particulate matter that is hazardous to health is produced by the abrasion on the grey cast iron brake discs commonly used today. This affects electric vehicles as well as cars with combustion engines.
A special coating on the brake disc can effectively prevent this abrasion. Another positive effect of this coating is that, in addition to significantly reducing particulate emissions, corrosion and wear are minimised.
The demand for coated brake discs will increase significantly with the introduction of the Euro 7 standard.
There are currently various coating technologies on the market, whereby WEISSER relies on so-called laser cladding. In this additive process, also known as laser cladding, a material powder is blown through an inert gas into the focus of the laser beam. The powdery coating material melts in the inert gas even before it hits the likewise melted surface of the workpiece, in this case the brake disc. The result is a metallurgically bonded corrosion- and abrasion-resistant hard coating on the brake disc.
WEISSER, as a traditional supplier of manufacturing solutions for turning, drilling and grinding operations on conventional brake discs, has developed a new machine concept, the LMD BD 450, which will enable the use of this new manufacturing technology for the large-scale production of brake discs in the future.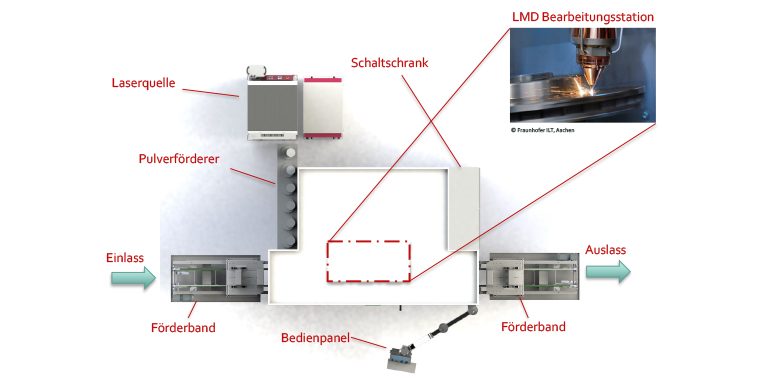 The most advanced laser coating technology: the new WEISSER machine concept LMD BD 450 (schematic representation)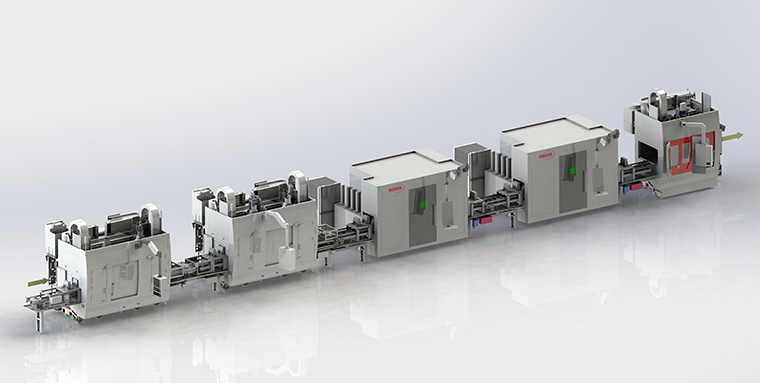 WEISSER processing line for laser-coated brake discs of the latest generation (schematic representation)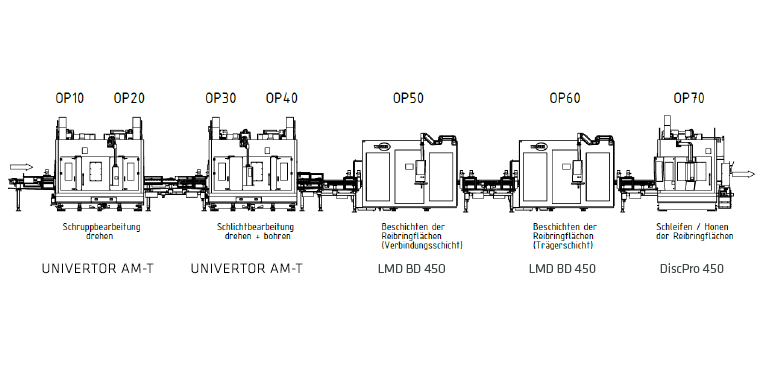 Everything from a single source. WEISSER offers the complete manufacturing solution for large-scale production of the next generation of brake discs from a single source.
The machine concept is specially designed for the mass production of brake discs up to a diameter of 450 mm. With extremely low non-productive times of < 1 second, this system guarantees maximum laser utilisation and thus also ensures the lowest cost-per-part. In combination with the already existing manufacturing solutions, this results in an innovative production line for the machining of the latest generation of brake discs.[/vc_column_text][vc_column_text]In the process chain, turning and drilling operations are first carried out on two UNIVERTOR AM-T vertical machining centres. This is followed by laser coating with the LMD BD 450 systems. Finally, the coated brake discs are ground to the required workpiece geometry with high precision using a double surface grinding unit in a UNIVERTOR AM.[/vc_column_text][/vc_column][/vc_row]