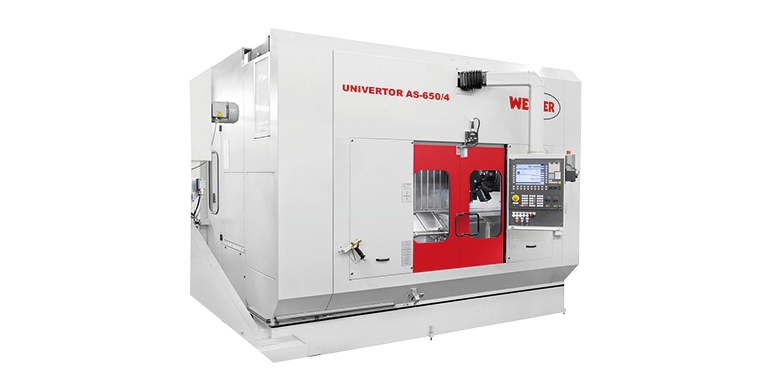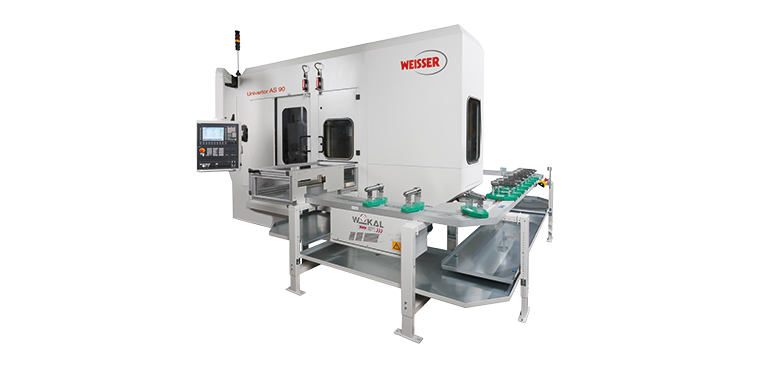 Available in two machine sizes
Left and right machine variants available
High dynamics of all axes
IN THE VERSION WITH PICK-UP LOADING
Modular designed, single-spindle pick-up precision turning machine. Designed for complete machining of various batch sizes at low unit costs and with high machining and quality requirements. Due to the automation solution integrated as a pick-up system, no loading devices or separate robot solutions are required. The cross slide of the UNIVERTOR AS, that carries both the motor spindle and the NC tailstock, is designed horizontally. The tailstock and steady rests travel NC-controlled.
CONCEPTUAL ADVANTAGES PICK-UP LOADING
Available in two machine sizes
Machine columns with very good stiffness behavior and optimized damping properties due to remaining sand in the model
Linear guides with high accuracy and preload classes in all axes
Direct path measuring systems in all axes (glass scales)
High dynamics of all axes
In-house built turning spindles with very good accuracy values within concentricity and axial run-out
Simple installation and disassembly of the turning spindle in case of repair needs
Green turning, hard turning, scrubbing, and finishing operations
Simple automation, only conveyor belt required
Patented pick-up principle optimized for machining of shaft parts
Proven machine concept with over 500 machines built
Compact footprint
Main spindle A6 according to DIN 55026
Tailstock with MK 4 mounting
Tool turret interface VDI or Capto possible 4
OPTIONS PICK-UP LOADING
Driven tools possible (for drilling operations)
Rotational turning possible
NC adjustable steady rest possible
Integrated measuring probe possible
Additional external grinding unit possible
Loading via NC shuttle possible
Technical data pick-up
AS90/400 (Pick-Up)
AS90/650 (Pick-Up)
Max. turning diameter
160 mm
160 mm
Max. chuck diameter
215 mm
215 mm
Max. peak distance
max. 740 mm
max. 990 mm
Max. Feed force X/Z (40 % CDF)
10 / 8 kN
10 / 8 kN
Working stroke X/Z-axis
280 / 1.130 mm
280 / 2.400 mm
Max. Process speed X/Z
30 / 60 m/min
30 / 100 m/min
Ball screw diameter X1/Z1
40 / 40 mm
40 / Linear motor mm
Number of tools
12 ( 2x)
12 ( 2x)
Tool flight circle
600 or 650 mm
600 or 650 mm
Main spindle
AS 90/400
AS90/650
Spindle bearing diameter
90 mm
90 mm
Drive power 100/40 % CDF
18/23 or 23/30 kW
18/23 or 23/30 kW
Rated speed
1500 1/min
1500 1/min
Max. Speed
4.500 1/min
4.500 1/min
Torque 100/40% CDF
115/146 or 151/191 Nm
115/146 or 151/191 Nm
IN THE VERSION WITH PORTAL LOADING
The horizontal shaft turning machine is equipped with a main spindle with a tailstock or a counter spindle. The highly productive simultaneous machining in one machine with up to two powerful disc turrets (4 axes) enables intelligent technology processes with high savings potentials and also offers highly precise machining results. In addition to good dynamics and the high rapid traverse speeds, this series has excellent damping properties and thus first-class accuracy behavior. Workpieces can be machined up to a workpiece length of 800 mm.
CONCEPTIONAL ADVANTAGES PORTAL LOADING
2-axis machining or 4-axis machining possible
Machine column with very good stiffness behavior and optimized damping properties due to remaining sand in the model
Linear guides designed in high accuracy and preload classes in all machine axes
Direct path measuring systems in all machining axes (glass scales)
High dynamics of all machine axes
Self-built turning spindles with very good concentricity and axial runout accuracy values
easy installation and removal of the turning spindle in the event of repairs
Green turning, hard turning, rough machining, finishing possible
Main spindle available in four power sizes (A6 or A8 according to DIN55026)
Tailstock with MK 4 or MK 5 mounting possible
Instead of tailstock also counter spindle in four power sizes possible (counter spindle principle)
Interface in tool turret VDI or Capto
OPTIONS PORTAL LOADING
Driven tools possible (for drilling operations)
Rotational turning possible
NC-adjustable steady rest possible (up to two independent steady rests possible)
Integrated measuring probe possible
Flexible automation solution via portal possible
Maintenance-friendly design due to integrated maintenance aisle
Technical Data Portal
Max. turning diameter
320 mm
Max. chuck diameter
400 mm
Max. peak distance
max. 1460
Max. Feed force X/Z (40 % CDF)
10 / 8 kN
Working stroke X/Z-axis
280 / 700 mm
Max. Process speed X/Z
30 / 60 m/min
Ball screw diameter X1/Z1
40 / 40 mm
Tool flight circle
730 mm
Spindle bearing diameter
90 mm
120 mm
150 mm
Drive power 100/40 % CDF
18/23 or 23/30 kW
35 / 40
52 / 67
Rated speed
1500 1/min
780 1/min
1100 1/min
Max. Speed
4500 1/min
3500 1/min
3500 1/min
Anfrage/Request
Ich interessiere mich für eine Fertiglösung von WEISSER/I am interested in a ready-to-use solution from WEISSER