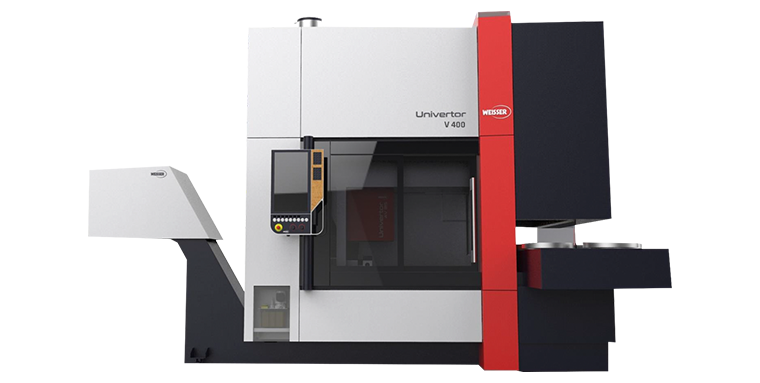 Proven quality through 100% evolution of the proven AM series
Faster process times due to modular design
Large work area and long traverse paths with compact machine external dimensions
For the evolution of the proven AM series, we put together countless
years of customer feedback and the concentrated know-how of our engineers. As a result, we have developed the UNIVERTOR V, where we
think one step ahead and have spared no effort.
In contrast to many other machine tools on the market, the UNIVERTOR V series convinces by an outstanding performance and excellent precision within this machine category. Due to its high machine stability, the series is predestined for hard turning. Short cycle time allow high quantities.
Technical data
Max. turning diameter
350 mm
Max. chuck diameter
400 mm
Max. Feed force X/Z (100 % CDF)
8 / 10 kN
Working stroke X-axis
1400 / 1850 mm
Working stroke Z-axis
400 mm
Max. Process speed X/Z
75 / 30 m/min
Ball screw diameter X/Z
50 / 40 mm
Spindle bearing diameter
120 mm
120 mm
Drive power 100 % CDF
29,1 kW
35,1 kW
Drive power 40 % CDF
30 kW
40 kW
Rated speed
1.050 rpm
780 rpm
Max. Speed
4.500 rpm
3.500 rpm
Torque 100 % CDF
265 Nm
430 Nm
Torque 40 % CDF
340 Nm
610 Nm
Anfrage/Request
Ich interessiere mich für eine Fertiglösung von WEISSER/I am interested in a ready-to-use solution from WEISSER