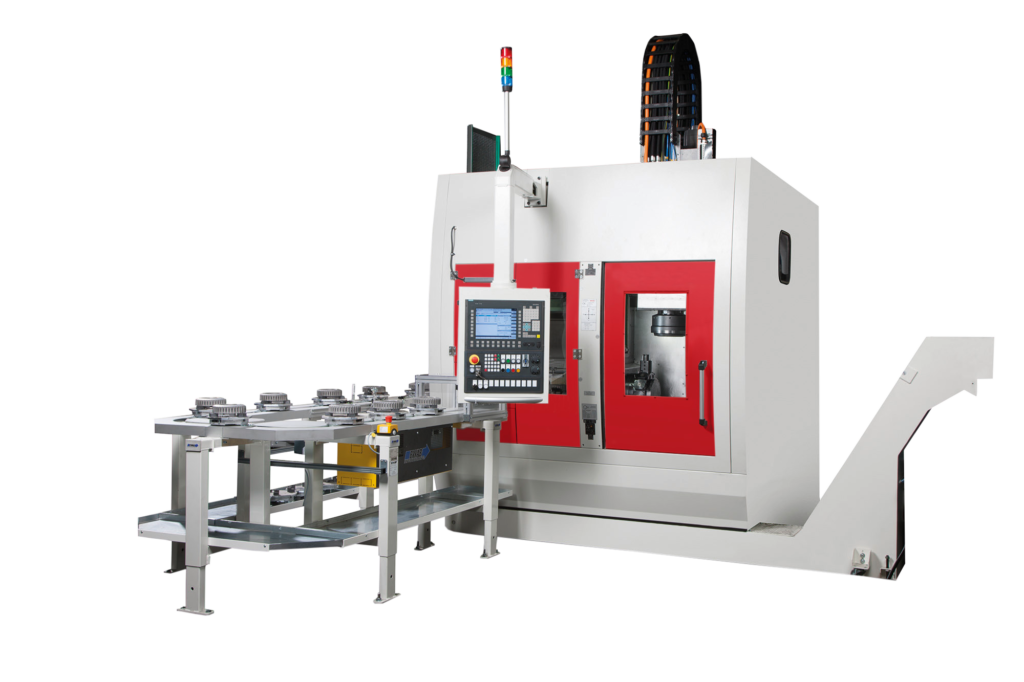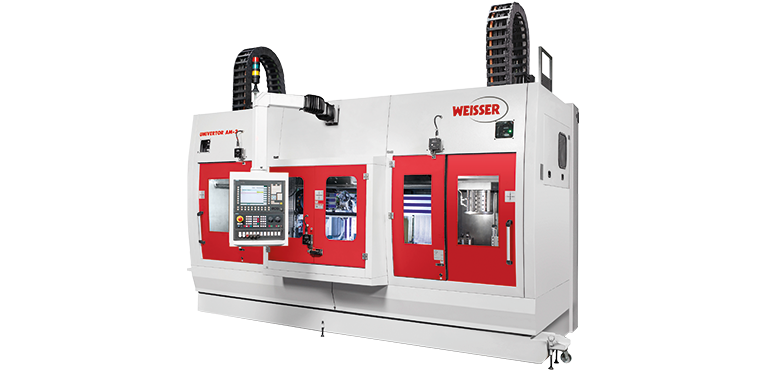 Highly ribbed monobloc machine base
Long travels despite compact external machine dimensions
Precision linear guide ways in horizontal and vertical direction
VERSION WITH ONE OR TWO SPINDLES
The modularly designed vertical precision turning machines of the UNIVERTOR AM are highly flexible and predestined for the complete machining of different batch sizes at lowest costs per piece. Technology integrations of rotation turning, hard turning, grinding, drilling, milling in one workspace enable high workpiece quality, contour accuracy and surface finish. In addition, setup, programming and idle times are significantly reduced. Highly productive simultaneous machining in one machine with up to two powerful disc turrets realize intelligent technology processes.
CONCEPTIONAL ADVANTAGES UNIVERTOR AM-1 / AM-2
Left and right machine variants available
Machine base with very good stiffness behavior
and optimized damping properties due to remaining sand in the model
Linear guides designed in high accuracy and preload classes in all machine axes
All linear guides and feed drives arranged outside the working area for protection against chips
Direct path measuring systems in all machining axes
(glass scales)
High dynamics of all machine axes
Optimal chip fall downwards
Self-built turning spindles with very good concentricity and axial run-out accuracy values
easy installation and removal of the turning spindle in the event of repairs
Main spindle A8 or A11 according to DIN 55026 possible
Interface in tool turret VDI or Capto possible
OPTIONS UNIVERTOR AM-1 / AM-2
Integrated measuring probe possible
Driven tools possible (for drilling operations)
4-axis machining possible ( through additional turret on cross-slide unit)
Additional internal grinding unit possible
Additional external grinding unit possible
Combination of turning and grinding in smallest space possible
Additional drilling head possible
Additional Y-A axis unit with milling spindle for gear milling possible.
AM-2: Simultaneous or sequential machining possible (with possibility of turning the workpieces)
AM-2: Various automation variants possible
VERSION AM-T
In the working area of the UNIVERTOR AM-T with vertical spindle-slide arrangement and multifunction slide, the workpieces are cycled through the machine according to the transfer principle. The transfer takes place directly from the hanging pick-up spindle into the standing vertical spindle. The additional turrets, drilling heads or multifunctional slides mounted on the special column module enable a wide range of machining options. In this way, subsequent operations can be carried out in one work area with significantly reduced non-productive times and with maximum transfer precision between the clamping units. This guarantees highly accurate form and position tolerances on the workpieces.
CONCEPTIONAL ADVANTAGES UNIVERTOR AM-T
Two-spindle design with pick-up spindle and vertically positioned counter spindle
Workpiece passage from left to right or vice versa possible
Machine column with very good stiffness behavior and optimized damping properties due to remaining sand in the model
Linear guides designed in high accuracy and preload classes in all machine axes
All linear guides and feed drives arranged outside the working area for protection against chips
Direct path measuring systems in all machining axes (glass scales)
High dynamics of all machine axes
Optimal chip fall downwards
Self-built turning spindles with very good concentricity and axial runout accuracy values
OPTIONS UNIVERTOR AM-T
Integrated measuring probe possible
Driven tools possible (for drilling operations)
Additional drilling head possible
NC lift-off tool holder possible
Technical data
Max. turning diameter
360 mm
450 mm
Max. chuck diameter
410 mm
500 mm
Max. Feed force X/Z (40 % CDF)
8 / 10 kN
8 / 10 kN
Working stroke X/Z-axis
1.400 / 440 mm
1.400 / 350 mm
Max. Process speed X/Z
60/30 m/min
60/30 m/min
Ball screw diameter X1/Z1
40/40 mm
40/40 mm
Tool holder
VDI40 / 50 / Capto
VDI40 / 50 / Capto
Spindle bearing diameter
120 mm
120 mm
Drive power 100 % CDF
35,1 kW
35 kW
Drive power 40 % CDF
40 kW
40 kW
Rated speed
780 rpm
780 rpm
Max. Speed
3500 rpm
3500 rpm
Torque 100 % CDF
430 Nm
430 Nm
Torque 40 % CDF
610 Nm
610 Nm
Anfrage/Request
Ich interessiere mich für eine Fertiglösung von WEISSER/I am interested in a ready-to-use solution from WEISSER