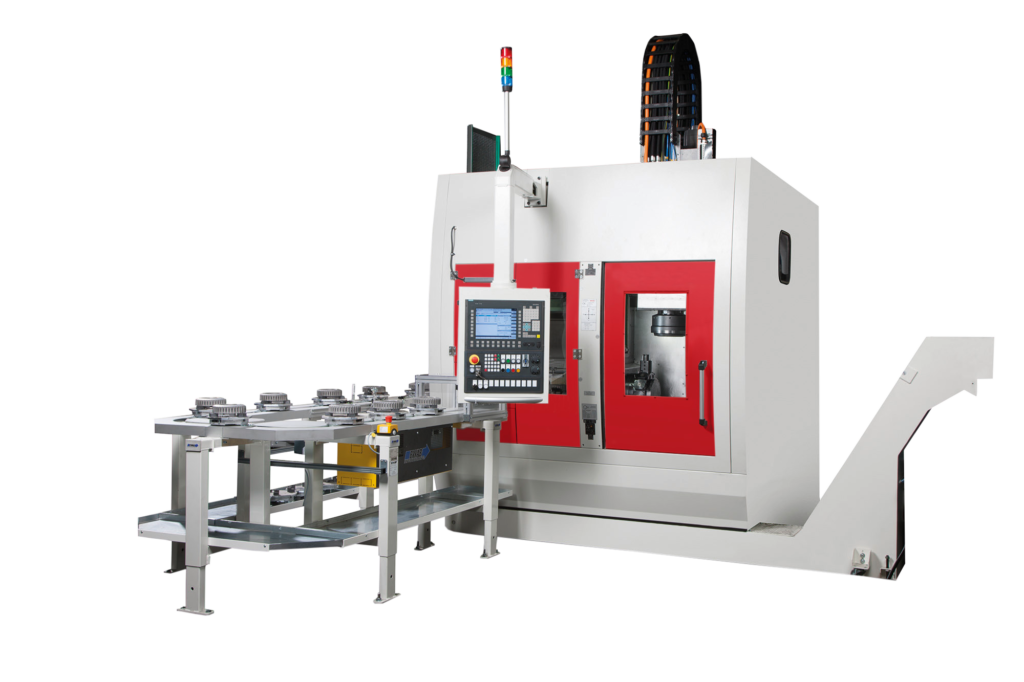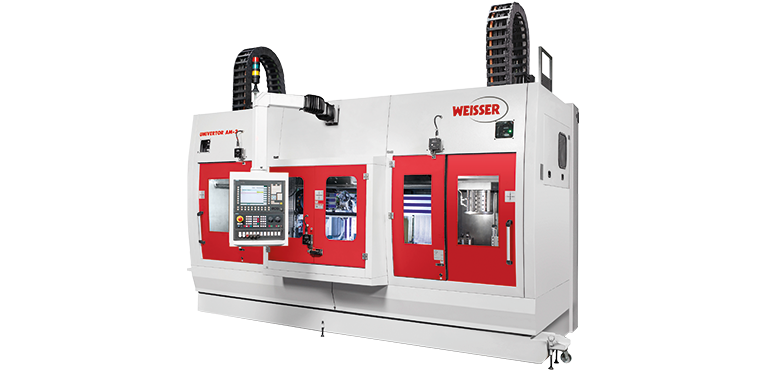 Highly ribbed monobloc machine base
Long travels despite compact external machine dimensions
Precision linear guide ways in horizontal and vertical direction
The UNIVERTOR AM series offers outstanding manufacturing competence for various workpiece applications at highest productivity, continuous accuracy and finishing precision. In contrast to many other machine tools on the market, the UNIVERTOR AM series convinces by an outstanding performance and excellent precision within this machine category. Due to its high machine stability, the series is predestined for hard turning.
Short cycle time allow high quantities and a maximum of economic efficiency. High production quality is achieved through sophisticated complete machining. Therefore, WEISSER combines the manufacturing processes specified for the respective applications with the original WEISSER Pick-Up system (patented) and customer-specific automation concepts to a perfect, process-reliable system solution.
Technical data
Max. turning diameter
360 mm
360 mm
Max. chuck diameter
410 mm
410 mm
Max. Feed force X/Z (40 % CDF)
8 / 10 kN
8 / 10 kN
Working stroke X/Z-axis
1.400 / 440 mm
1.400 / 440 mm
Max. Process speed X/Z
60/30 m/min
60/30 m/min
Ball screw diameter X1/Z1
40/40 mm
40/40 mm
Tool holder
VDI40 / 50 / Capto
VDI40 / 50 / Capto
Tool flight circle
740 mm
740 mm
Spindle bearing diameter
120 mm
120 mm
Drive power 100 % CDF
35,1 kW
35,1 kW
Drive power 40 % CDF
40 kW
40 kW
Rated speed
780 rpm
780 rpm
Max. Speed
3500 rpm
3500 rpm
Torque 100 % CDF
430 Nm
430 Nm
Torque 40 % CDF
610 Nm
610 Nm
Product competence
High-precision, lowest cost per piece and multifunctional production. The modular designed vertical precision turning centers of the UNIVERTOR AM are highly flexible and predestined for the complete machining of different batch sizes at lowest piece costs. Technology integration of turning, hard turning, grinding, drilling, milling in one working area enable high workpiece quality, contour accuracy and surface quality. In addition, set-up, tooling, programming and idle times are significantly reduced. Highly productive simultaneous machining in one machine with up to two powerful disk turrets achieve intelligent technological rocesses.
As an extension to the UNIVERTOR AM series the AM-TM is a single-spindle Pick-Up precision turning center with milling spindle and disc turret. An excellent accessibility to the clamping devices, tools and the Pick-Up position as well as a good view into the working area for process observation make this machine a multi-axis all-rounder.
Anfrage/Request
Ich interessiere mich für eine Fertiglösung von WEISSER/I am interested in a ready-to-use solution from WEISSER