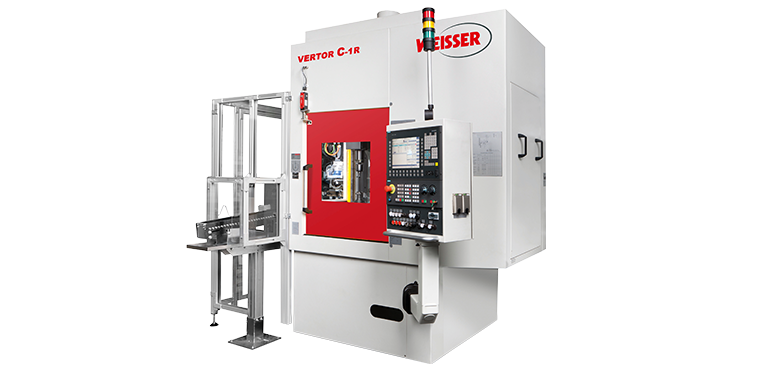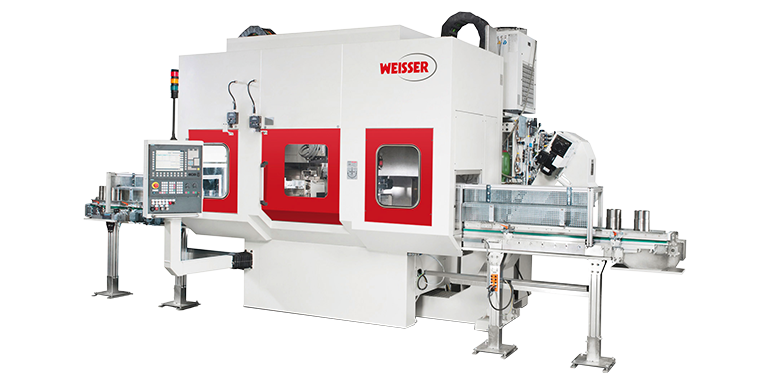 Heavily ribbed monobloc machine base
Extremely high stiffness and thermal stability
Large working volumes with compact external dimensions of the machine
The modular designed, vertical precision turning centers VERTOR C and VERTOR M are both equipped with a stationary motor spindle, highly flexible and perfectly suited for the most economical, multifunctional complete machining of different batch sizes with high demands on cutting technique and quality.
The Vertor C and M series machines are ideally suited for wet and dry machining of all common rotationally symmetrical workpieces with highest precision, availability and continuous accuracy. The VERTOR C and M series have very good accessibility at smallest space requirement and offers the option of two- or four-axes machining additionally.
Technical data
Max. turning diameter
450 mm
450 mm
Max. chuck diameter
600 mm
600 mm
Max. Feed force X/Z (40 % CDF)
9 / 9 kN
9 / 9 kN
Working stroke X/Z-axis
230 / 280 (280/400) mm
230 / 280 (280/400) mm
Max. Process speed X/Z
30 / 30 m/min
30 / 30 m/min
Ball screw diameter X1/Z1
40 / 40 mm
40 / 40 mm
Number of tools
12 (2x12)
12 (2x12)
Tool holder
VDI40 / 50
VDI40 / 50
Tool flight circle
620 mm
620 mm
Main spindle
VERTOR C
VERTOR M
Spindle bearing diameter
90 mm
150 mm
Spindle flange
A6 DIN55026
A8 DIN55026
Drive power 100 % CDF
18 kW
52 kW
Drive power 40 % CDF
23 kW
67 kW
Rated speed
1.500 rpm
1.100 rpm
Max. Speed
6.000 rpm
3.500 rpm
Torque 100 % CDF
115 Nm
580 Nm
Torque 40 % CDF
146 Nm
450 Nm
Product competence
The possibility of technology integration of innovative processes such as non-circular turning, hard turning, grinding, drilling or milling leads to a significant reduction of internal logistics processes and creates high-precision machining results.
Highly productive simultaneous machining in one machine with two powerful disk turrets (4-axes). Intelligent technology processes and the combination of different machining steps offer high savings potential. Working with two tools simultaneously shortens the machining times of the workpiece and thus reduces the cost per part.
Anfrage/Request
Ich interessiere mich für eine Fertiglösung von WEISSER/I am interested in a ready-to-use solution from WEISSER