At the AMB, the HARDINGE Group will be presenting innovations from the turning and milling sectors with the brands HARDINGE, BRIDGEPORT and WEISSER. KELLENBERGER places the focus on the new BLUE Solution software. The brand FORKARDT will be showing the first high-precision manual chuck on the market.
The renowned lathe manufacturer J.G. WEISSER Söhne from St. Georgen, Germany, which has only recently become part of the HARDINGE Group, will be showing the multifunctional horizontal machining center ARTERY at the AMB. The ARTERY offers three workspace configurations, which provide different machining options and enable soft and hard turning, milling, gear cutting, drilling and reaming, among others.
The high flexibility of the ARTERY makes the machine ideally suited for use in the industrial sectors of precision engineering, aerospace, mechanical engineering and medical technology, as well as other sectors with the demand for high-precision components. The machining center produces first-class surfaces on chuck and shaft parts and offers the highest level of precision and process reliability while providing high vibration damping and flexibility.
The Z-axis is particularly long and therefore very well suited for 6-sided complete bar machining as well as for long workpieces. The compact milling head with HSK-T63 or optional Capto C6 holder allows the use of long tools on the face side. In addition to 6-sided complete machining, time-parallel turning and milling from the bar with a diameter of up to 65 mm resp. 105 mm or of workpieces with a turning length of up to 1200 mm is possible
On the ARTERY M-2 TM presented at AMB turning and milling can be performed from the bar thanks to the B axis with milling spindle plus a tool carrier and counter spindle equipped with a disc turret. In addition, this configuration is equipped with a 38-position tool changer as standard. Automation solutions using robot loading cells or gantry loading are possible. For this purpose, the ARTERY M-2 TM can be equipped with an automatic door opener or a loading hatch.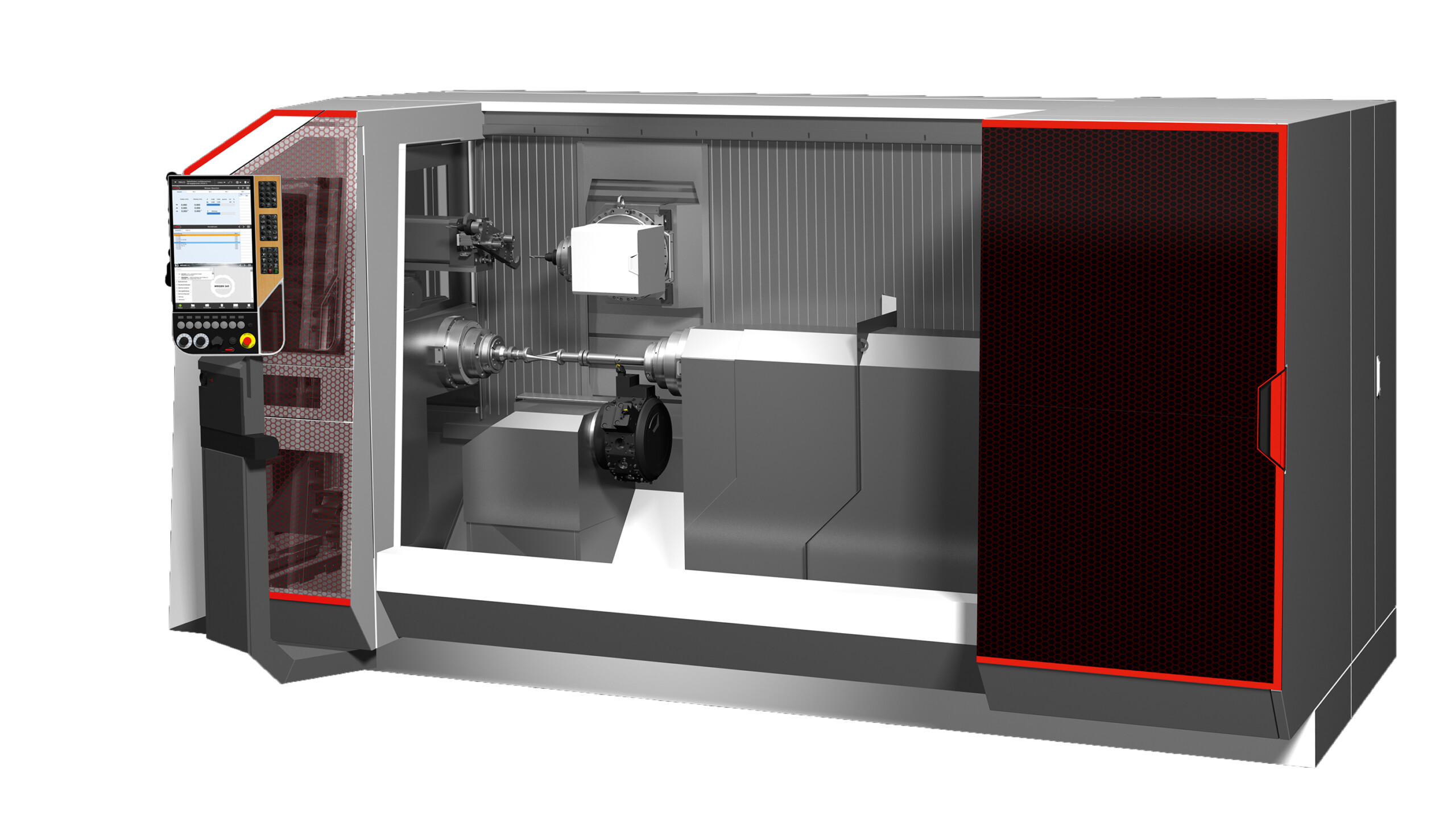 The WEISSER ARTERY M-2 TM: Large working area with compact footprint
HARDINGE will be presenting two machine concepts, a T51 SP MSY hard lathe with integrated grinding unit and a completely redesigned TALENT®TT multi-tasking lathe, which was designed for high production output with great versatility in part machining.
The T51 SP MSY high-precision turning and milling machine shown at the trade fair is equipped with a newly developed grinding unit for the complete machining of HSK tool holders. In this case, the grinding unit is established directly over the interface of the driven tools and used for surface and longitudinal grinding. In general, this solution is perfectly suited for all combined manufacturing requirements of turning, milling and grinding. The T51 SP MSY can be equipped with a wide variety of automation systems, depending on the requirement specifications of autonomous, fully automatic production.
As for the TALENT®TT, up to 8 axes are available for demanding turning operations. This means that even complex parts can be manufactured in one clamping with high repeatability and the best surfaces. Downstream operations are thus minimized or, in the best case, eliminated. Turning and milling parts can also be machined off-center. A 60° cast base ensures maximum stability and good chip removal.
The TALENT®TT is equipped with two spindles (with C-axis contour machining in both spindles) and two turrets with 16 stations each for flexible use on the main and counter spindles. The turrets can each operate independently or simultaneously on one or both spindles. For prismatic milling operations, driven tools can be used on all stations on both turrets. A full orthogonal Y-axis (travel +/-30 mm) on the upper turret ensures maximum productivity, as well as improved part throughput and accuracy, easy part handling, and thus reduced cycle times. The lower turret can be used as a tailstock if required.
The TALENT®TT 42 shown at the trade show has a bar capacity of 42 mm and is ideally suited for workpieces weighing up to 34 kg, a machining diameter of 218 mm and a machining length of 435 mm. Equipped with bar loader, workpiece unloader, automatic workpiece recognition and inclined bed chip conveyor, the TT becomes an automated production cell with maximum flexibility and productivity, ideal for unmanned or unattended operation.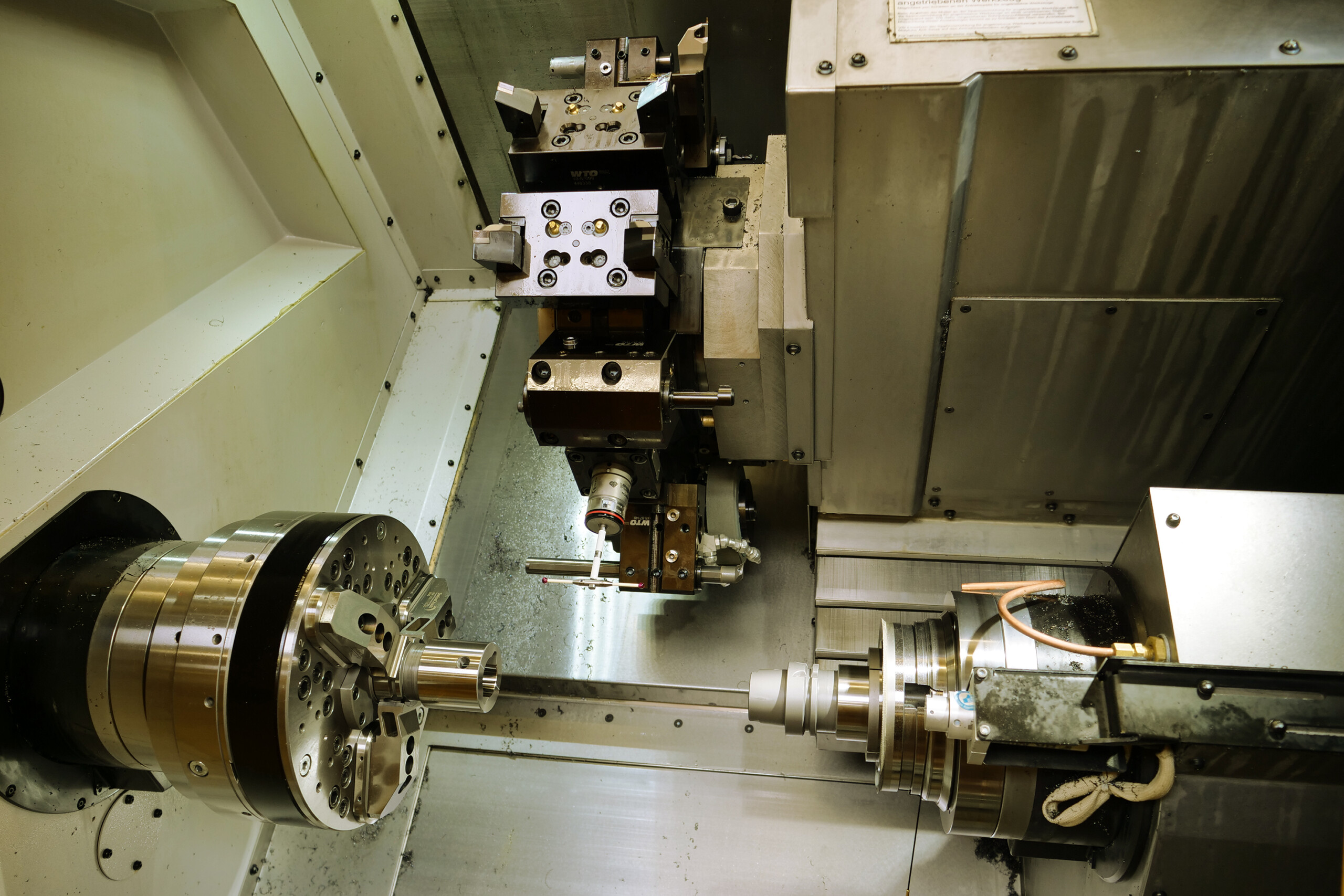 For combined turning, milling and grinding processes the HARDINGE
T51 SP MSY hard turning machine was equipped with a grinding unit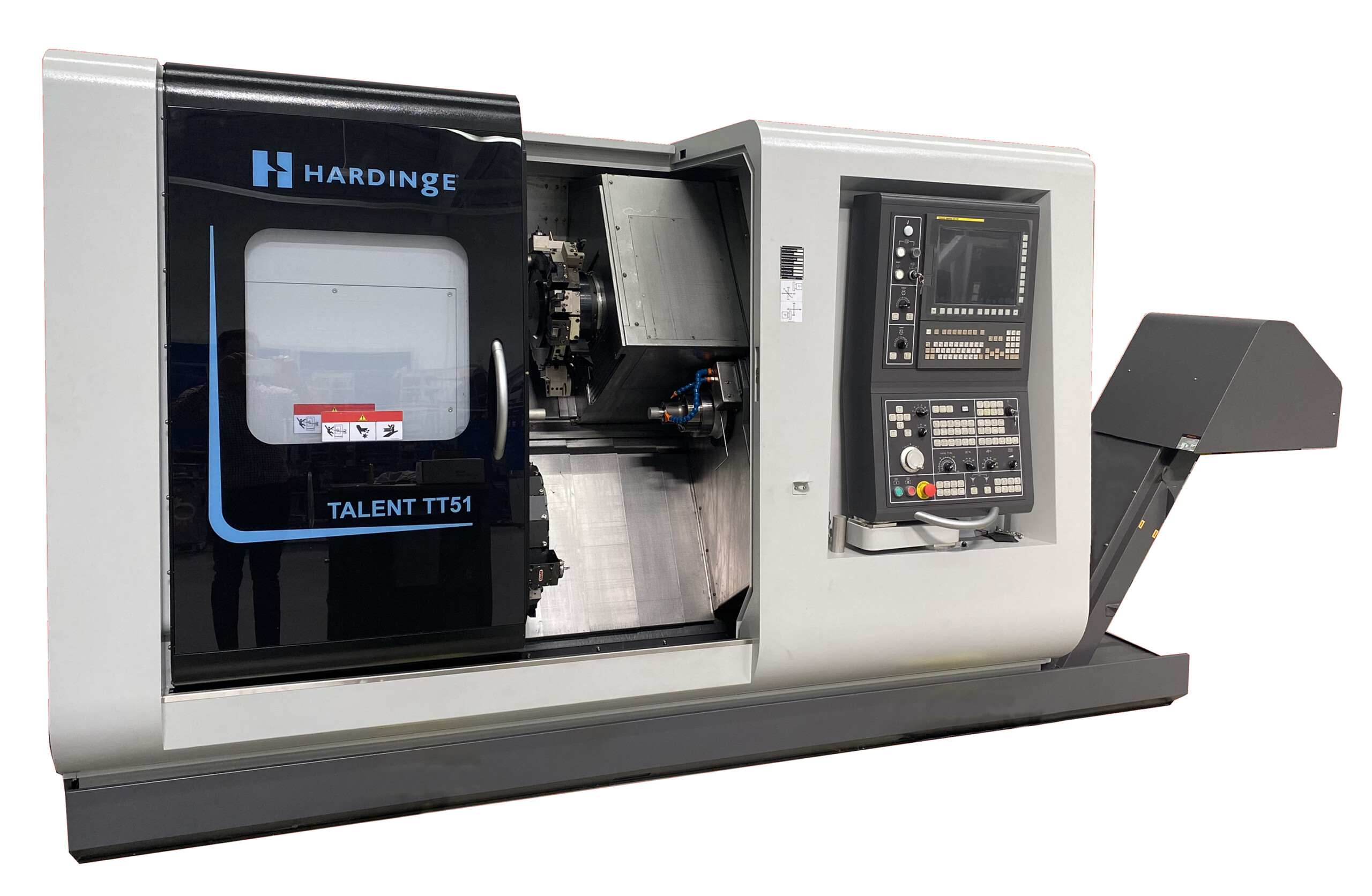 The TALENT®TT is also available with a 51 mm bar capacity
The BRIDGEPORT V710 vertical machining center, also on display at the AMB, is part of the Conquest V series, designed for maximum performance when used in contract manufacturing, aerospace, automotive, power generation and many other manufacturing applications. The extremely compact design is paired with high rigidity of the cast iron frame. The machine was designed for applications with short machining time, high accuracy and large quantities.
The Bridgeport V710 is equipped with a belt-driven spindle with 10,000 rpm and 47 Nm torque as standard. The machine has rapid traverse rates of 36 m/min in X/Y/Z and a drive power of 7.5 kW. With travels in X/Y/Z of 710mm, 400 mm and 430 mm, it is the largest among the three machines in the series. The tool magazine with 20 holding places and double-arm gripper holds tools up to 80 mm in diameter, with free secondary places up to 150 mm, max. tool length 190 mm, max. tool weight 7 kg, The tool change time could be reduced to 1.5 seconds, the chip-to-chip time to 3.8 seconds. This shortens cycle times enormously.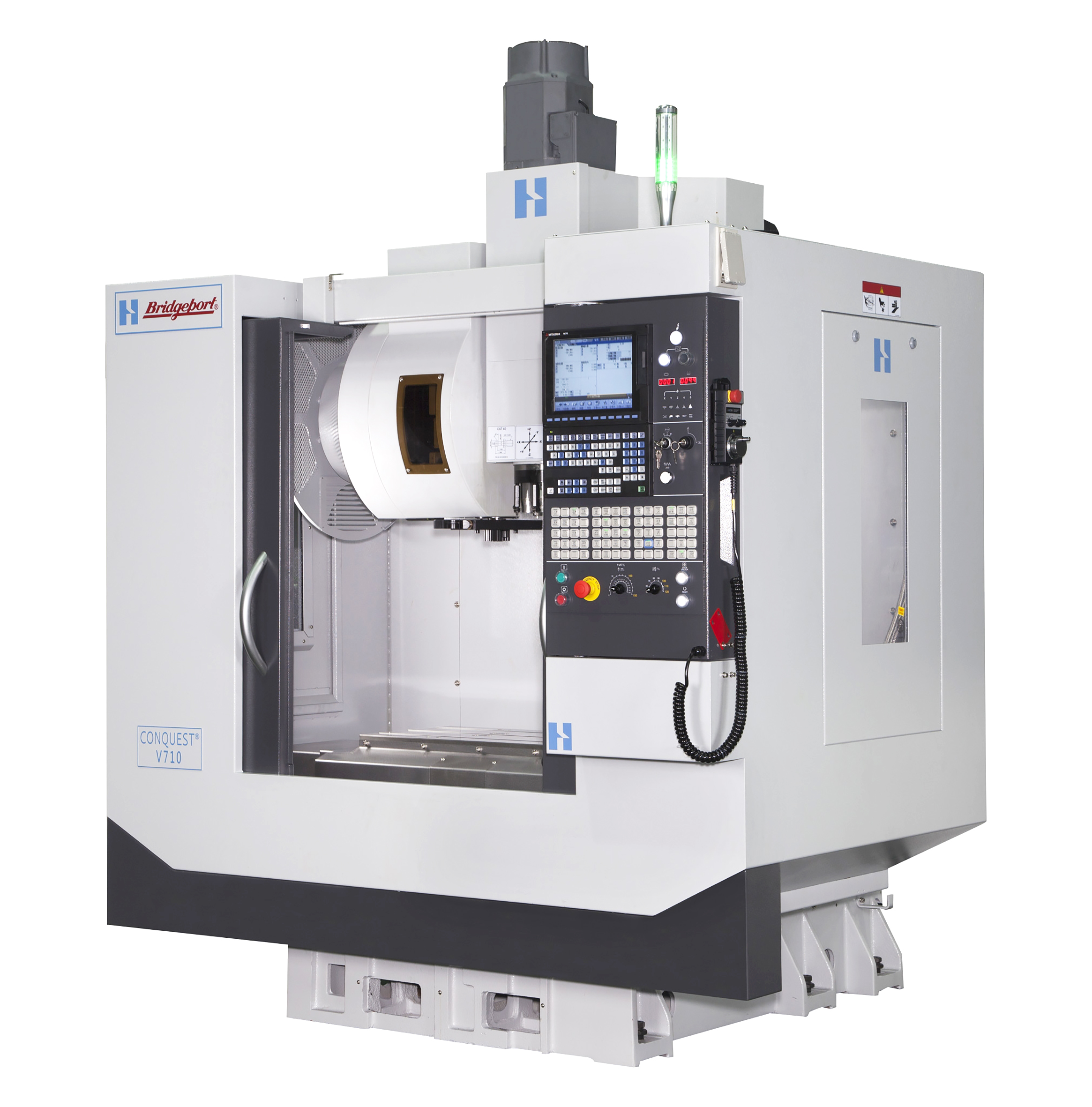 The BRIDGEPORT V710 machining center is the largest machine in the Conquest V series
In the field of grinding machines, KELLENBERGER will be presenting the BLUE Solution control software, which has only recently been launched on the market. It is equally adaptable across all series and easy and logically intuitive for the operator to use, regardless of whether the focus of machining is internal grinding or external grinding. The BLUE Solution has a completely newly created control architecture and will replace the proven RED Solution software variant in all KELLENBERGER and VOUMARD machines in the future.
On its own stand in Hall 1, the Forkardt brand, which is also part of the Hardinge Group, will be presenting individual clamping systems for customer-specific applications in the automotive, food industry and mechanical engineering sectors. The highlight is the new three-jaw precision manual chuck 3P110-11-Z3-KDIN, which was developed together with Kellenberger. It is the first high-precision manual chuck on the market worldwide.
HARDINGE group on the AMB
Hall 10/A19
FORKARDT on the AMB
Hall 1 /J46