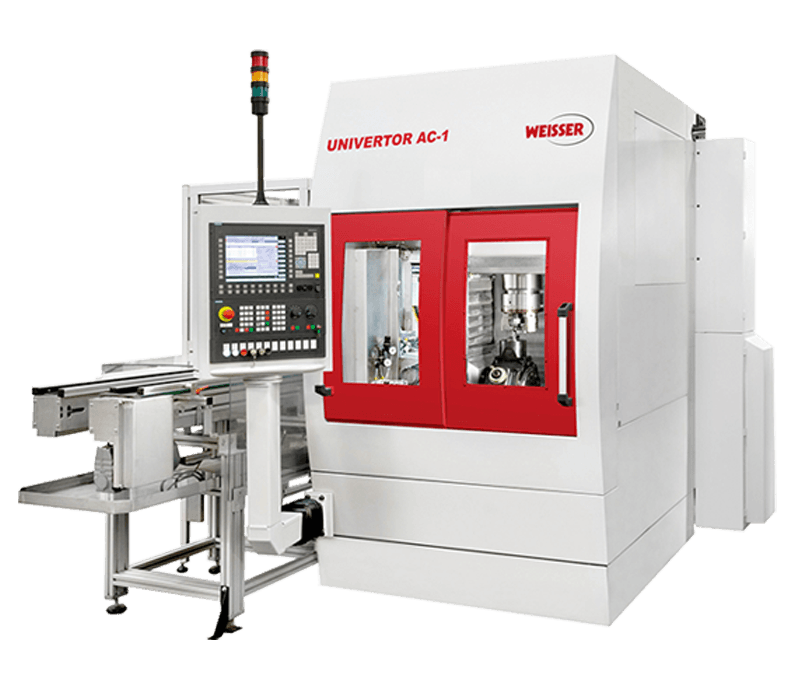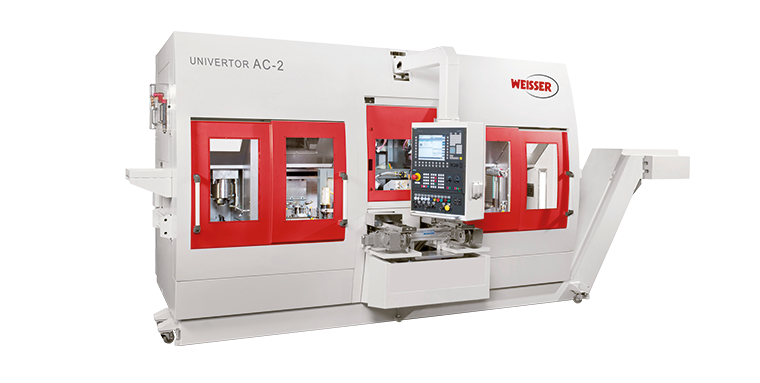 Left and right machine variants available
Linear guides designed with high accuracy and preload classes in all machine axes
Direct path measuring systems in all machining axes (glass scales)
VERSION WITH ONE SPINDLE UNIVERTOR AC-1
The machines of the AC-1 series are highly flexible and
predestined for the complete machining of different batch sizes, with very high quality requirements. The design as a right-hand or left-hand machine concept realizes the ideal adaptation to the production sequence. Highly productive simultaneous machining in one machine with up to two powerful disk turrets (4 axes) or several grinding spindles enables intelligent technology processes with high savings potentials and creates high-precision machining results.
CONCEPTIONAL ADVANTAGES UNIVERTOR AC-1
Left and right machine variants available
Machine columns with very good stiffness behavior and optimized damping properties due to remaining sand in the model
Linear guides designed in high accuracy and preload classes in all machine axes
All linear guides and feed drives arranged outside the working area for protection against chips
Direct path measuring systems in all machining axes (glass scales))
High dynamics of all machine axes
Optimal chip fall downwards
Self-built turning spindles with very good concentricity and axial run-out accuracy values
Easy installation and removal of the turning spindle in the event of repairs
Compact footprint due to integrated handling unit (2-axis version with swivel unit)
Main spindle A6 according to DIN 55026
Interface in tool turret VDI or Capto possible
OPTIONS UNIVERTOR AC-1
Integrated measuring probe possible
Driven tools possible (for drilling operations)
4-axis machining possible (by additional turret on cross slide unit)
Additional internal grinding unit possible
Additional external grinding unit possible
Combination of turning and grinding in smallest space possible
Additional drilling head possible
Additional Y-A axis unit with milling spindle for gear milling possible
Spatial separation of both machine halves possible (to a certain extent independent of each other)
Simultaneous or progressive machining possible
(with possibility of turning the workpieces)
Various automation variants possible
VERSION WITH TWO SPINDLES UNIVERTOR AC-2
With the two-spindle UNIVERTOR AC-2, simultaneous machining of two workpieces or machining of one workpiece in two clampings is possible. It has the same modularity and flexibility as the UNIVERTOR AC-1. The possibility of technology integrations of innovative processes such as rotation turning, hard turning, grinding, drilling or milling results in a significant reduction of in-house logistics processes and creates high-precision machining results.
CONCEPTIONAL ADVANTAGES UNIVERTOR AC-2
Left and right machine variants available
Machine columns with very good stiffness behavior and optimized damping properties due to remaining sand in the model
Linear guides designed in high accuracy and preload classes in all machine axes
All linear guides and feed drives arranged outside the working area for protection against chips
Direct path measuring systems in all machining axes (glass scales))
High dynamics of all machine axes
Optimal chip fall downwards
Self-built turning spindles with very good concentricity and axial run-out accuracy values
Easy installation and removal of the turning spindle in the event of repairs
Compact footprint due to integrated handling unit (2-axis version with swivel unit)
Main spindle A6 according to DIN 55026
Interface in tool turret VDI or Capto possible
OPTIONS UNIVERTOR AC-2
Integrated measuring probe possible
Driven tools possible (for drilling operations)
4-axis machining possible (by additional turret on cross slide unit)
Additional internal grinding unit possible
Additional external grinding unit possible
Combination of turning and grinding in smallest space possible
Additional drilling head possible
Additional Y-A axis unit with milling spindle for gear milling possible
Spatial separation of both machine halves possible (to a certain extent independent of each other)
Simultaneous or progressive machining possible
(with possibility of turning the workpieces)
Various automation variants possible
TECHNICAL DATA
Max. turning diameter
150 mm
Max. chuck diameter
215 mm
Max. Feed force X/Z (40 % CDF)
8 / 10 kN
Working stroke X/Z-axis
830/180 mm
Max. Process speed X/Z
60/30 m/min
Ball screw diameter X1/Z1
40/40 mm
Spindle bearing diameter
90 mm
Drive power 100 % CDF
16,8 (20,9) kW
Drive power 40 % CDF
21,5 (26,8) kW
Max. Speed
4500 U/min, rpm,
Torque 100 % CDF
100 (200) Nm
Torque 40 % CDF
128 (255) Nm
Anfrage/Request
Ich interessiere mich für eine Fertiglösung von WEISSER/I am interested in a ready-to-use solution from WEISSER