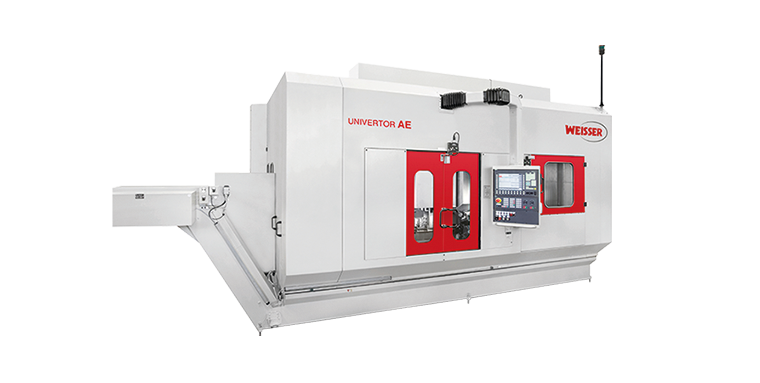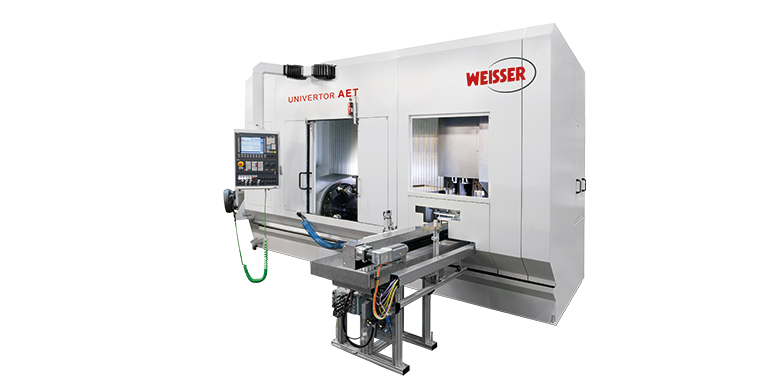 Automatic loading with the integrated pick-up system
Powerful centric clamping for the reliable fixing of raw parts
Centering, spindling, drilling and milling of shaft ends
Modular designed finishing machine with original WEISSER pick-up system. Instead of the basic sledge with motor spindle, a modified, movable built-up sledge with robust centric clamps is used to hold shaft-shaped workpieces, such as gear and crankshafts. This means that no additional robot or gantry solutions are required, the machine feeds itself.
The design with robust disk or crown turrets allows spindling, milling, drilling and deep drilling of the shaft ends using driven tools. The horizontal axis of the machine is equipped with a linear direct drive.
Besides the excellent dynamics and the high rapid traverse speeds, the UNIVERTOR AE series also has very good damping characteristics and thus a firstclass accuracy behaviour.
Technical data
Max. workpiece diameter
150 mm
150 mm
Max. workpiece lenght
600 mm
600 mm
Max. Feed force X/Z (40 % CDF)
5 / 5 kN
5 / 5 kN
Max. Feed force X2 (40 % CDF)
12 kN
12 kN
Working stroke X/Z-axis
350 / 1.900 mm
310 / 1.900 mm
Working stroke Z2-axis
457 mm
457 mm
Max. Process speed X/Z
30 / 50 m/min
30 / 50 m/min
Max. Process speed Z2
30 m/min
30 m/min
Ball screw diameter X/Z
40 / 40 mm
40 / 40 mm
Ball screw diameter Z2
40 mm
40 mm
Number of tools
2 / 6 / 8 (2x)
2 x 6 (2x)
Anfrage/Request
Ich interessiere mich für eine Fertiglösung von WEISSER/I am interested in a ready-to-use solution from WEISSER