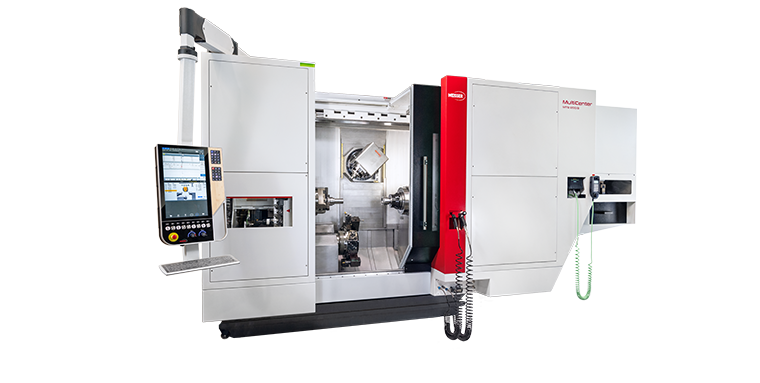 Small depth of engagement and easy setting-up
Big field of tool application
Vibration optimized construction
Versatile machining possibilities for precision and flexibility
The MultiCenter presents itself as multifunctional machining center with different options. Beside the option as pure turning machine it can also be configured as turning-milling center. Due to its remarkable flexibility the MultiCenter is used in different industrial sectors. Amongst others in precision technology, aerospace, mechanical engineering, medical engineering and many other industrial sectors.
The basic machine of the MultiCenter impresses with a horizontal spindle arrangement and a compact design. The machine column made of high-quality grey cast iron, strongly ribbed and with extraordinary stiffness, offers optimum damping characteristics. The design of the working area walls guarantees an efficient removal of chips. The spacious working area door enables a simple scaffolding and resetting, as well as quick changes of chucks and tools.
CONCEPTIONAL ADVANTAGES MultiCenter
Small depth of engagement and easy setting-up: With a depth of engagement of only 455 mm between machine front and spindle axis the setting-up is simplified.
Big field of tool application: the MultiCenter is designed for big tools up to max. 330 mm.
Efficient automation: The seamless integration of loading-and unloading handling in the machine area is optional and creates a high degree of automation at low cost.
Ergonomic operation: The optional swivel-type operator panel which is height-adjustable up to 240 mm offers a comfortable and ergonomic operation.
Customizable chip removal: The flexible option of the chip conveyor arrangement (right or left) optimizes the space requirement and the work environment.
Easy maintenance: The chip conveyor can be pulled laterally and from the front, this facilitates maintenance and cleaning and reduces downtimes.
Technical data
Chuck diameter
up to 350 mm
Max. Feed force W/X/Y/Z (25 % CDF)
7,5 / 7,5 / 7,5 / 7,5 kN
Working stroke X (top / bottom)
600 / 200 mm
Working stroke Y-axis
210 (+130 / -80) mm
Working stroke Z-axis (top / bottom)
1.100 / 1.200 mm
Max. Travel speed W/X/Y/Z
45 / 40 / 40 / 45 m/min
Ball screw diameter W/X/Y/Z
40 / 40 / 40 / 40 mm
Spindle bearing diameter
120 (160) mm
Spindle diameter
65 (105) mm
65 (105) mm
65 (105) mm
Spindle bore diameter
80 (120) mm
Drive power 100 % CDF
22 (48) kW
Drive power 40 % CDF
24 (52) kW
Nominal speed
1.400 (780) rpm
Max. Speed
5.700 (3.200) rpm
Torque 40 % CDF
191 (795) Nm
Torque 100 % CDF
150 (585) Nm
Anfrage/Request
Ich interessiere mich für eine Fertiglösung von WEISSER/I am interested in a ready-to-use solution from WEISSER